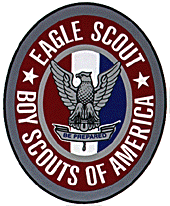 Chester County Council, BSA
Eagle Scout Information
The purpose of this web site is to provide information to Life Scouts as they prepare to become Eagle Scouts, to their parents, and to their Scout leaders. The Eagle rank is a very significant accomplishment for any Scout, which can only be achieved through commitment and hard work. As with most difficult endeavors, knowing what is expected, and the necessary steps of the process, makes the journey go more smoothly. The purpose of this web site is to pull together as much information as possible to help you through that process.
The information on this web site is from a variety of sources, including official Boy Scouts of America publications and many other sources. The information presented is not necessarily the official position of the Boy Scouts of America or any subdivision of the BSA.
The forms and paperwork handling instructions on this web site are specific to Chester County Council. If you are from any other council, you are welcome to use any information here but you should check with your local council on what forms and procedures you should use.
The 7 requirements for the Eagle Scout rank
Understand the Project Process
Download the Eagle Scout Handbook and Project Workbook
Attend a Life To Eagle Seminar
Complete the other requirements
This web site is the result of the accumulation of information and experience from 32 years as District and Council Advancement Chairman and the process of shepherding over 1200 Scouts through the Life to Eagle process. It also includes input and ideas from many Scouts and Scouters who have been involved in the process. It is my firm belief that virtually any Scout is capable of earning the Eagle Scout rank if he is willing to make the decision that the goal is important enough to him to make it a high enough priority to do what needs to be done. At the same time, it is not a goal that can be forced on a young man by parents or Scout leaders if the young man is not willing to make the commitment.
If you have made the decision that you want to become an Eagle Scout, congratulations and good luck. The best advice I can give you is that you diligently gather as much information as possible about what you are about, and follow the advice given carefully. That is the purpose of this web site. Not only is there detailed information about how to approach each step in the process, but there are links to many other references for information about how to plan and carry out projects. In addition, use your library, Scoutmaster, troop Eagle advisor and/or Eagle project coach, fellow Scouts, and other resources.
You are setting off on one of the greatest adventures of your life. Remember to always Do Your Best in everything you do. You will get only as much out of life as you put into it.
Yours In Scouting,
Tom Stalnaker
Council Advancement vice-chair
Chester County Council, BSA